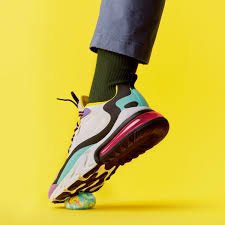 Whenever the conversation revolves around footwear essentials, sports shoes are an option that crops up first and foremost. If you don't have a pair of good sports shoes in your collection, it is pretty safe to say you're missing out on many beneficial aspects. Sports shoes only work to enhance and upgrade your closet in the most enriching ways. They are the best addition you could make to your collection because of several reasons. Here are five such reasons why you should buy sports shoes of good quality:
Reliable:
Sports shoes are designed to ensure complete reliability as athletes and sportspersons use them the most. They are made to endure all kinds of wear and tear to make sure they last you a long time. A pair of good quality sports shoes are something you can always rely on for their durability, without a doubt.
Comfortable:
Comfort is an essential factor you get in any sports shoes. Most have lace fastenings that allow you to adjust the tightness according to your feet for adequate grip. The cushioned footbed gives your foot a soft cushioning that is highly comfortable, and the textured outsole prevents you from slipping.
Versatile:
As far as fashion goes, there is absolutely nothing you can't pair sports shoes with. Sports shoes are the new trend, whether it's with formal wear, casual wear, business casual wear, or even ethnic wear. The versatility in qualities and the range from comfort to fancy are too good to miss out on.
Stylish:
Unlike when sports shoes were pretty new in the market, style is one aspect that has seen tremendous change. Gone are the monotonous, boring designs – sports shoes are now available in various sleek, stylish designs like chunky patterns, bold colors, patterned or textured materials, and many more.
Healthy Feet:
Doctors recommend owning at least one pair of sports shoes owing to how healthy it keeps your feet. Your footwear majorly affects your ankles, feet, toes, and knees. Having wonky shoes that provide no stability can cause severe aches, but you have none of those worries with sports shoes. They are stable, breathable to keep your skin free of any rashes or blisters, and have a soft padding, impacting your feet and the ground softer. This, in turn, is very beneficial for your feet, so you should invest in a good pair of sports shoes.
As far as reasons go, there are no better ones. You need to stock up on the best sports shoes right away. Mochi Shoes, one of the leading footwear brands, has put together an attractive collective of their most loved pieces. Giving you excellent affordability, superior quality, and excellent customer service can rest assured your product will be highly worth it. Variety in sport's shoes is one of their most vital aspects, so look no further and start shopping for your favorite ones from Mochi Shoes right away!