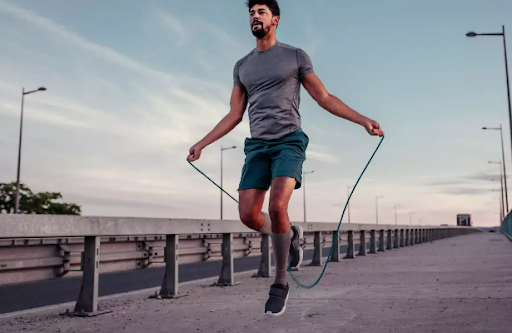 When we think about weight loss, jumping rope is the last thing that comes to mind. Mainly because it is known to be a good warm-up workout that will get you to bring your body temperature up and you will basically start to sweat. This will also help your body get ready for the intense workout to come so your body doesn't feel the strain. Eventually, you will also get to see that after a good jump rope session your risk of getting injured because of an intense workout will also decrease. However, if you ask someone about jumping rope as the only exercise for weight loss, most people will be very skeptical and will get very confused. However, experts say that no matter the kind of cardio you choose, if you know your goal and you know how to customize your workout, there is a high chance that you will be able to achieve your goal faster without any side effects.
Why Rope Skipping Is The Best Workout For Everyone?
So far the best thing about rope skipping is that technically you can do it even if you are a beginner and there is nothing that will make you prone to injury if you are not able to complete it properly. Even kids use rope jumping as a game so it is safe to say that you will be able to do it even if you are a beginner and have no technical knowledge, another important benefit is that you don't need any specialized equipment because you just need a rope that is quite affordable. Since rope skipping is a type of cardio, you will get to use it according to your need. You can change speed to enhance the intensity and this will help you customize your workout routine according to your need. Technically once you start rope skipping you don't have to learn or rearrange things.
With the help of this article, we will mainly look at some of the main ways rope skipping as an exercise will help you lose weight. We will further see how rope skipping impacts the human body and if there are any side effects of rope skipping.
The Impact of Rope Skipping On Your Body
Rope skipping means you are not only using your mind to sync your muscles with your brain but you will also get to build muscle memory by repeating the same action on repeat. The idea is that you will be burning the stored fat in your body and this will help you fuel your movement of full body muscles. Another important thing to keep in mind is that while you skip rope you will have to focus on the way your use your body. With the change of intensity, the calorie burnout rate will change as well. Finally, you will acquire strength so that you can carry on your workout and day-to-day activities without feeling tired. You will be training your body so you can work out for a longer time period.
How Do You Lose Weight?
As you start rope skipping you are technically not only trying to sync the movement of your whole body with your limbs you are also going to see that since you are using all body muscles, you will burn a lot of calories along the way. As your whole body will be involved, you will get to burn a lot of fat and this will help you lose weight. To increase the intensity you can adjust your speed. You can increase the speed to full by increasing the frequency of each rope skipping cycle or you can simply decrease the frequency and your speed decreases as well.  
Are There Any Side Effects Of Rope Skipping?
Technically there are no side effects of rope skipping because rope-skipping has been used as a game for a very long time. Not only it is easy but also helps in the development because it promotes the absorption of nutrients. However, some basic side effects have been reported by people. These side effects include:
     

Rope skipping can cause injury because it requires extreme control over your feet and ankle.

     

Rope skipping can worsen the bone injury if you already have an injury in the foot.

     

Rope skipping can worsen the heart issue after surgery or even if you have an untreated heart issue

     

Rope skipping can period-related issues in young girls and increase the risk of abortion in women.
Bottom Line
To sum it all up, it all comes down to the way you use rope skipping. You can definitely use it as a sport and enjoy it so you don't have to maintain the intensity. However, if you are going to use it as an exercise you need to maintain a workout pattern and intensity. This will help you know when and how you will reach your goal. This will also help you limit the workout pattern and see how you can achieve your goal faster. The idea is to keep track of the progress and then customize the workout accordingly. It is better to start with low intensity and you will be able to adjust the intensity as you improve.