When it comes to dressing for a formal event, you want to ensure you're making the right impression. This guide will provide you with the in-depth knowledge required to dress appropriately and stylishly for any black-tie or white-tie occasion. Below, you will find everything you need to know, from understanding the invitation and picking the right suit to choosing the perfect accessories. Keep reading to learn more.
Deciphering the Dress Code
Before you can start assembling your outfit, you need to understand what the dress code is telling you. The dress code for a formal event can differ significantly depending on the level of formality. Common formal dress codes include "black tie" or "white tie," which each carry different expectations for what should be worn.
The crucial part of dressing for a formal event is knowing that you're going to make the right impression. When in doubt, it's always better to overdress than underdress. However, always pay attention to the nuances in the dress code. For example, a black tie optional invite implies that a tuxedo is not required but is still highly recommended. Always adhere strictly to the dress code; this shows respect towards your host and suggests you are aware of proper etiquette.
Choosing the Right Suit
Selecting the right suit style and the color is essential. Consider the tone of the event. If it is an evening event, a darker shade will be more suitable, and if it is a daytime event, lighter colors are acceptable. A blue suit can often work for a range of formal events, provided it's well-tailored and paired with the right accessories. However, black or white might be required for some formal events or if the invitation specifically states it.
Ensure that the suit fits you well. A suit that is too big or small will give an untidy and cheap impression. Make sure the suit flatters your body shape and fits perfectly. Suits should be tailored to your body measurements for the best fit. The jacket should fit snugly around your shoulders, and the trousers should sit on the natural waistline.
Moreover, don't underestimate the effects of quality materials. Invest in a well-crafted suit from top-quality fabric that feels comfortable and enhances your physique. It will be long-lasting and give you a feeling of confidence which is much needed at these events. You can purchase a nice suit from a company like RW&CO, which offers classic and modern looks for any style or formal occasion.
The Power of a Well-chosen Shirt
The shirt holds equal importance as the suit in a formal ensemble. Always opt for a clean, well-ironed shirt. For formal events, stick with classic colors such as crisp white or light blue. A well-tailored, well-fitted shirt greatly enhances a formal look.
The type of collar on your formal shirt also plays a large part in defining the entire look. If you're expected to wear a bow tie, a wing collar will probably make the best choice, whereas if you're wearing a regular necktie, classic point or spread collars work well.
In terms of fabric, a shirt made out of 100% cotton will provide the perfect balance between comfort and aesthetic appeal. A cotton shirt will keep you cool and comfortable while looking crisp and elegant at the same time. Quality matters in a formal ensemble, and a well-made shirt reflects your attention to detail.
Choosing the Right Shoes and Socks
When it comes to dressing for a formal event, men often tend to focus solely on their attire and overlook the significance of choosing the right pair of shoes. However, it is crucial to understand that men's shoes play a crucial role in completing the overall look and elevating the style quotient. The right pair of shoes can enhance the sophistication, elegance, and professionalism of any formal outfit.
Firstly, the style of shoes you choose can significantly impact your overall appearance. For a black-tie event, a classic pair of black patent leather Oxford shoes would be a perfect choice to complement a tuxedo or a formal suit. These shoes exude a timeless and refined look that effortlessly adds a touch of luxury to your ensemble. On the other hand, a brown or tan leather pair of brogues or loafers can be an excellent choice for a slightly less formal occasion, such as a cocktail party or a business event.
Secondly, the quality and condition of your shoes speak volumes about your attention to detail and personal grooming. Wearing scuffed or worn-out shoes can detract from an otherwise well-put-together outfit, giving off an impression of carelessness. Invest in a good pair of shoes made from high-quality materials, and keep them clean and polished. This not only enhances their longevity but also ensures that you make a positive impression with your impeccable style.
Adding Personal Touches with Accessories
Accessories are an excellent way to show a touch of your personality. Choose a good-quality leather belt with a simple buckle. As a rule, your belt should match your shoes. This works in creating a harmonized aesthetic throughout your outfit.
Ties and pocket squares deliver opportunities to add individuality to your outfit. The color of your tie should complement your suit and shirt. For pocket squares, the rule is that they should complement your tie or shirt, not match it directly. Cufflinks can add another personal touch to your outfit. They make a suit look sophisticated and show attention to detail. Just make sure they are appropriate for the occasion, ensuring they aren't loud or gimmicky for the situation.
A nice watch also has the power to elevate your formal outfit and make a lasting impression. It is a timeless accessory that not only tells time but also adds a touch of sophistication and class to your overall look. Whether you're attending a business meeting, a wedding, or a formal event, well-chosen accessories can effortlessly enhance your outfit and boost your confidence.
Lessons in Grooming
Nobody wants to be the most well-dressed man in the room, only to have their look ruined by poor grooming. Clean, short nails, fresh breath, and a good haircut should be a priority. A clean-shaven face generally tends to lean more toward the formal look. Although, a neatly trimmed beard can also look classy if maintained well.
When it comes to aftershaves or perfumes, avoid using any strong or overpowering fragrances. Neutral or subtle fragrances work well with formal events. Remember, smelling good contributes to a better overall impact, but your scent shouldn't be so strong that it becomes a conversation starter.
You'll also want to ensure your outfit is clean and well-pressed before you wear it. If it's wrinkled or has visible stains, it becomes a distraction and detracts from the image you are trying to portray.
The Importance of Confidence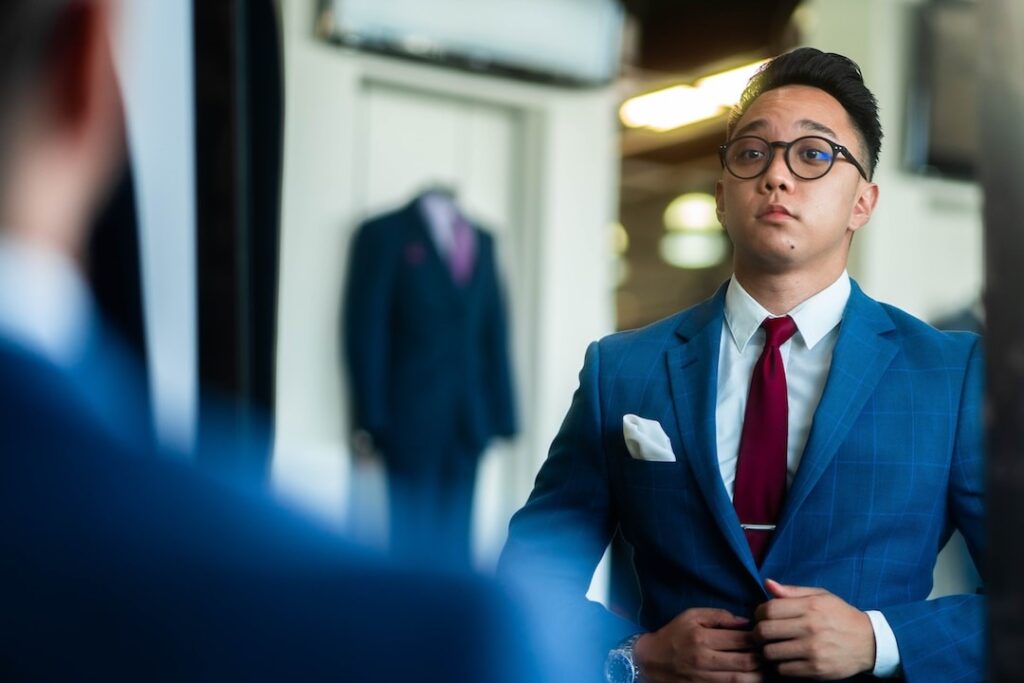 Even if you are well-dressed and perfectly groomed, if you're not confident, it will show. Ensure you feel good and comfortable in what you're wearing. Dressing well isn't only about vanity; it makes you feel more poised and stable, contributing to increased confidence.
Body language is important. Stand tall, make eye contact when speaking or listening, and give a firm handshake. Remember always to be polite and have good manners; these also contribute to making a good impression.
Finally, realize that dressing well is about balance. Don't try too hard to stand out or fit in. Dress appropriately for the occasion, stay comfortable, and carry yourself with elegance and composure. It's not only about how you dress but also about how you carry yourself in that look.
Overall, understanding the dress code, choosing the right suit, shirt, shoes, accessories, grooming properly, and having the confidence to carry it off— all are equally important factors when it comes to dressing for a formal event. Remember, it's not about wearing the most expensive clothing but about wearing something that fits well, is in line with expectations, and makes you feel good. Keep this guide in mind for your next formal event to ensure you make a lasting impression.