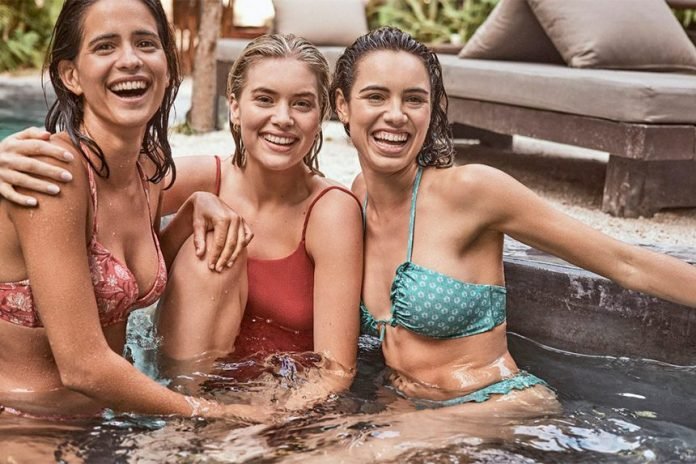 We are immersed in summer 2022 and that is why we are already thinking about the trends in bikinis and swimsuits, perfect for this hot season. Swimwear is meant for beaches and pools, but it can also be worn in spring, the time music festivals kick off across the country. 
Women´secret
Women'secret is a brand that belongs to the textile giant Inditex and that always has the latest news in underwear and swimwear. Its summer 2022 catalog includes new swimwear, adapted to catwalk fashion and the trends set by the best designers. If you want to say goodbye to your bikini from last year and you want to renew it, 
The new trends dress the summer with tropical prints , polka dots and stripes, in addition to the more classic designs with flat colors, but stylish. The animal print, as in the rest of the clothes, also floods the bikinis and swimsuits of Women'secret. Another of the best trends is that of ruffles, which help to create volume both in the top and in the panties. Flamenco-inspired polka dots paint the most beautiful tops and swimsuits, to give a fun and innocent touch to your beach look .
As for colors, there is a wide variety of bright and cheerful palettes to make your days in the sun as colorful as possible. We also show you the accessories with which you will want to accompany your swimwear: hats, glasses, sandals, raffia bags…
Bikinis Women'secret catalog for summer 2022
The best bikinis and swimsuits are available at your Women'secret store , a space created for you with underwear and swimwear. To choose your perfect model, take into account the shape of your body and the colors that can work best according to your skin tone, hair and eyes. Classics like black and white never fail, being perfect for all types of women and with a wide variety of shapes and extras, such as ruffles or rings.
Bikinis are perfect for the most daring, those who want to be more tanned. The swimsuit, meanwhile, is a wardrobe essential for the most classic or for those who want to protect most of their skin from the sun. Flee from the most classic models and go for swimsuits with low backs and details that make the difference.
bikini
Women'secret bikinis have the best designs you can find , with catwalk trends included. The selection we have made has two classics, designed for a wide variety of skin and hair tones, which never fail: the white model , with a triangular top with straps decorated with tassels and a bow at the neck and at the back. The black model, a wardrobe staple, has the advantage that it is push-up, for all women who want to enhance their chest while making sure to have a good support thanks to the wide straps. The prints come stomping, that's why we offer you the striped bandeau model, with warm tones and a comfortable design. Finally, we propose a very basic model, but one that adds to the prevailing trend of ruffles. On this occasion , flower prints have once again become a must, perfect for those who want to give a greater sense of volume to the upper part.
swimsuits
Swimsuits are ideal for the most classic women and for those who prefer not to expose themselves too much to the sun's rays. At Women'secret you can also find more current shapes, which are far from the cuts that have been seen most previously: ruffles, plunging necklines and high waists with eighties inspiration are triumphing this summer 2022. In this selection we have chosen 3 swimsuits thinking in all kinds of women. The first of them is a black swimsuit, basic, but which feels especially good thanks to its shaping technology. Prints are the main protagonists of swimwear fashion, with an   animal print motif of tigers , with a halter neckline, side slits and mustard details in the print. End withthe most classic summer colors, like the aquamarine of this swimsuit with ruffle details on the shoulders.
Accessories
You can complete your beach, pool or festival looks with the best accessories from Women'secret. A hat to protect you from the sun is always a good idea, as it also adds extra style to the whole outfit and can be adjusted with a tie around the neck. Give up the simplest flip-flops and opt for more original ones with multicolored rubber   or open raffia ones with a touch of shine. Complete your protection from the sun with tortoiseshell – printed sunglasses , so that your look does not lack details .