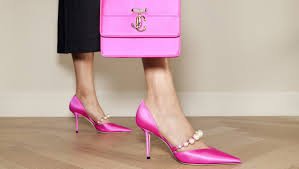 The new collection  , always with the latest trends in women's fashion. Enjoy all the news in bags and shoes from your favorite national and international brands.
The trends for women that are going to be worn the most, the fashionable colors. We have everything new prepared exclusively for you . News every day on our website, so be prepared to be constantly surprised and enjoy fashion, comfort and style is possible.
This new collection also includes an ideal selection for the most special occasions: celebrations, parties, weddings, events. All women's accessories for your day to day , sizes from 35 in different and unique shoes and bags.
Many times we are asked about the importance of the bag and the shoes in a look, and the answer is always the same: with a good bag and good shoes you lift up any look , and you make low cost clothes look of higher quality.
Bags and shoes are not just an accessory, for many women they are a cult object, which can say a lot about the personality of the wearer. If you want to know what a woman is like, forget about looking into her eyes and look better at her bag.
The bag is a very feminine accessory, present in multiple varieties and styles, it becomes a woman's inseparable friend, as well as a travel companion and confessor of our intimacies. A woman's bag contains a piece of her life and reveals, in a certain way, your tastes and lifestyle.
There are women who also use it as a symbol of social status, just as a man can do with a watch. They know that when he gets his hands on the latest Gucci or Prada handbag they will be the center of envy from many female colleagues.
Regarding shoes, due to our experience as image consultants and personal shoppers , we affirm that comfort prevails in the choice. For day to day women look for beautiful but comfortable shoes, and only bet on risky models or with high heels for specific events.
In fact, we believe that many women are not aware of the attractiveness and power that heels bring. And few things come to mind more fetish than high heels.
A good bag is expensive, but you have to think that it is going to be used every day, and nothing happens because you wear the same one a hundred times. On the other hand, with clothes you cannot do it. No matter how wonderful a garment is, you cannot wear it every day because, among other things, it would make you feel unhygienic.
A good brand bag can be inherited like a jewel, providing that plus of having wealthy ancestors with good taste.
In a very short time the sales are back, and it's time to invest in a quality bag and some black or nude shoes, which will be essential in your wardrobe.