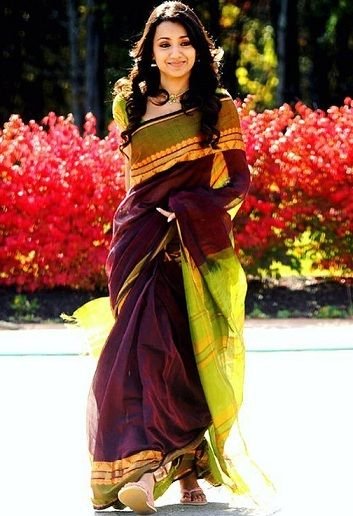 Trisha, the name is synonymous with a delicate South Indian beauty. The A-list actress has made a mark in the movie industry with her surprisingly good looks and, of course, her acting prowess! Trisha has also gained popularity off-screen for her impeccable fashion sense. You are sure to see Trisha Krishnan in a saree look, who personifies a true Indian diva! Whether it's a promotional event or a private wedding, Trisha knows how to show off her saree styles! In this article, we feature some of her best saree images, along with some styling tips!
Beautiful images of Trisha Krishnan in the latest saree collection.
Trisha loves sarees and is always seen with a new addition at different social events. Below are some popular images of Trisha in various sarees showing how exactly an Indian lady looks like.
1. VTV Trisha Saree:
Trisha has created a sensation with her role as Jessie on VTV (Vinnaithaandi Varuvaaya). This brown and green Chanderi saree is popularly known as 'Trisha Saree' for its extreme popularity. Trisha looks wonderful in this saree and she has done the outfit justice. We just love its "simplicity"!
2. Trisha in half sari:
How can we forget about the beauty of Trisha's village in some movies? Trisha has a bubbly side, which she often reveals through her half-saree outfits. This blue lehenga style costume is created to bring your character to life. It's free of extra frills and stays true to your minimalist fashion choices.
3. Trisha in pink saree:
Trisha looked resplendent in a coral pink sari, which she paired with a beautiful stone blouse. She chose a heavy set of Polki chokers and a matching Maatha pathi. Her beautiful eyes and that sparkly nose pin make her a perfect bride!
4. Trisha in cotton saree:
ThisTrisha's latest saree on VTV is again one of the most pinned designs! The red and black cotton saree has an unspoken elegance that Trisha wore even more gracefully. She amplified the glam quotient with her gorgeous locks and thoughtful mood. That little 'Jessie' chain and locket is all that was needed to complement the saree.
5. Trisha's floral saree:
Trisha looked like a walking garden in this gorgeous floral saree. The heavy blouse complemented the understated georgette saree. Trisha stuck to her minimalist style with her boat neck blouse model and a pair of earrings. She kept her makeup natural and her million dollar smile was prettier than her outfit!
6. Trisha in green saree:
Doesn't Trisha look like a fallen nymph in this picture? The actress looked sensational in this bridal look. She was sporting an elegant Kanjeevaram with a Banaras blouse. His accessories were true to the theme and loaded with diamonds and polkis. Her flawless draped style and that bright smile is all we need!
7. Ombre all the way:
Ombre is a more recent saree design, but this doesn't stop this actress from using the design to steal the hearts of her fans. Saris are traditionally Indian clothing and the new colors signify modernization and this actress does not want to lose the fashion of the day.
8. Nude golden saree:
Gold nude sarees are always superb and this saree is another unique piece of art. The saree enhances the look of these great actresses and makes her look absolutely stunning compared to anyone else, but the saree also has a very serene feel that gives people a sense of peace.
9. Black floral saree:
The flower show emits femininity and this is what this diva is looking for, to wear a saree to show how flawlessly beautiful and downright cute a woman can be. The flower show is a great saree and it really is a work of art that combines femininity with elegance and frank beauty.
10. Golden saree:
Even on set, this great actress takes the look of a saree to a whole new level. The golden colors of the saree are an absolute thrill to add to the environment around her, another great saree that has been worn by this amazing actress.
11. Red silk saree:
The sultry gaze is one of Trisha's most on-screen looks showing that she is not only a veteran actress, but also a diva. With 7 years in the business, this outstanding actress knows how to look really good.
12. Fishnet floral saree:
The fishnet pattern is another very sensual saree that highlights the royal beauty of this great actress. The fishnet pattern saree is available in many different patterns and colors, allowing you to choose according to your taste. This is one of Trisha's favorite saris.
13. The sweet mallow:
This is one of her latest additions to her wardrobe, the sweet mauve is a very extravagantly simple saree that highlights the radiant features of this flawless actress and inspires ladies across India to feel more self-confident.
14. Sheer black saree:
Give this South Indian diva a chance to look great for any social or formal event and she will look absolutely amazing. In this image, a sheer black saree that everyone loves is the perfect addition to the festive mood that adds an addition of color to your surroundings.
15. Blue saree:
The cooler toned sarees are again available in many different colors. This particular saree worn by this great actress really brings out the true meaning of a traditional Indian saree and shows that sarees are not only meant for special events but can also be worn on a daily basis without looking drab or boring in any way.
Trisha Saree Looks Style Tips:
Follow these style tips to get some inspiration from this diva:
The Trisha Style Is All About Keeping It Minimal And Elegant. So The Rule Of Thumb Is To Avoid Overdoing It!
Keep The Blouse Heavy And The Saree Simple Or Vice Versa!
Go For Simple Sarees As They Are More Versatile To Style.
If You Want To Try A Sober Style, Just Ditch Those Accessories And Try A Hairstyle. Always Works!
Leave The Pallu In One Step For A Casual Look With Your Saree.
Choose Elegant, Fitted Tops That Are Not Too Flashy!
Those are some of Trisha's best looks in a saree! Trisha has earned immense stardom for her natural acting skills. On top of that, she is also known for her girl-next-door beauty, which is a rare item these days. You will often see her wearing simple sarees and blouses. She has inspired many young people to take the sari route, especially on VTV. We look forward to seeing more of her movies in the future and of course her beautiful saris!