Henna holds an aesthetic value in western weddings; without it, marriages are incomplete, and the girls go all crazy for the mehndi designs. But, the regret when your tattooed hands are fading the henna color is real. 
The henna tints last a week or two before they start taking on fading appearance. And, once it starts diminishing, all you'll want is to get rid of the patchy and flaky design from your skin, completely and rapidly. 
However, if you are in the same condition and looking for ways to remove those patchy stains, no problem, we got you covered. 
How To Remove Fading Henna From Your Skin
Here are the ten easy tips that can help you eliminate those fading henna stains in no time. 
The most convenient and trouble-free way to get rid of fading henna is salt water soak. It has no ingredient that you need to find in the markets, just your table salt and tap water. 
The NaCl in your salt helps to nourish your living cells and removes the dead ones. All you need to do is fill a container with mineral/tap water and add a tablespoon of sea/table salt. Next, soak your hands into the solution for a max of twenty minutes and then pat dry them.
Baking Powder and Lemon Solution
You might know that lemon is a proven skin lightening agent. Add baking soda to it and make a thick paste. This paste is one of the most effective ways to get rid of ugly fading henna marks faster and without side effects. 
All you'll want to do is take a cotton swab, apply the paste equally where needed, and leave it for ten minutes or until it dries. Next, give it a gentle massage and rinse it with warm water. The results are expected to show up after a single-use. But, if the stains are still there, you can repeat the same process. 
The best idea to remove henna from your hands is by exfoliating. It's a quick and easy process. Take your face scrub and rub it on your hands. As henna only dyes the skin's top layer, your scrub can easily remove those stains. 
Give your tattooed area an exfoliating massage for three to four minutes and wash it with warm water. It will drain all your flaky henna. But while giving yourself a massage, make sure to remain gentle or else you'll end up bruising yourself. 
Antibacterial Soap and Warm Water
Washing your hands is already a good habit, and after the covid pandemic, it has already become necessary to wash your hands every few minutes. So why not apply this trick to remove your henna stains?
It is somehow a slow but probably the easiest way to get rid of henna tattoos. Wash your hands with your favorite antibacterial soap from time to time and rinse them with warm water. But remember, excessive washing can make your skin dry. So, apply a moisturizer every time you use an antibacterial soap to get rid of your henna.
Using Micellar water to fade off your henna stain is the gentlest way as it can bond to the henna tattoo and steal it off your skin. 
Please make sure you soak your hands thoroughly into it, so your skin absorbs the solution. Next, give your palms a slight massage and clean them with a damp towel. 
While studying olive oil benefits to write my essay, one of the most surprising things I read was its capability to remove henna stains without any side effects.
All you want to do is make a paste using three tablespoons of olive oil with a table and a teaspoon of salt and coat it across your hands. 
Allow the mixture to rest for ten minutes and wash it off with an antibacterial soap followed by a gentle massage from a moisturizing cream. 
For better results, repeat the procedure twice a day until the color fades. 
You might think that hair conditioner is only used for your hair care, but no. you can also use it to remove your henna stains. 
Apply a thick layer of your conditioner on your hands. Ensure no area with henna stain remains uncovered and give it a good time to absorb your henna fully. 
After a few minutes, check the result by removing a small patch; if done, rinse off with the warm water and apply your Vaseline.  
Hydroperoxide is a non-toxic benign solution that is readily available at most pharmacies. This acid can lighten your henna stain but not eradicate it. However, you can give it several tries.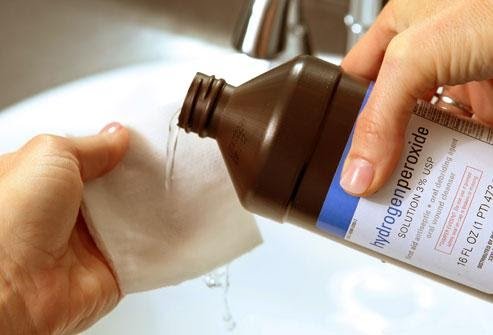 Just soak your cotton in hydrogen peroxide and rub it smoothly around the tattooed areas; give it a rest for a few minutes, and you're good to go. 
However, before applying the acid to the whole hands, try it on a small patch to ensure your hands are not itching.
You might think that the only way your toothpaste helps you is in dental health, but no, it can help you clean your jewelry and get rid of fading henna stains.
You need to apply a generous amount of toothpaste to your mehndi and let it dry. Once dried, rub your hands together and wash them with warm water. 
The method is effective the first time, but you can give it a second try if it doesn't work. However, don't forget to moisturize your hands afterwards. 
The chlorinated pool of any swimming area can be your great help in terms of removing your henna stain beyond recognition. 
Swim for forty minutes, and you'll burn 300 calories plus all the ugly henna stains.
Author bio 
Amanda Jerelyn is currently working as a blogger at Crowd Writer and Master Thesis. She has a keen interest in providing dissertation services to higher education students and serves for thesis writing services UK.