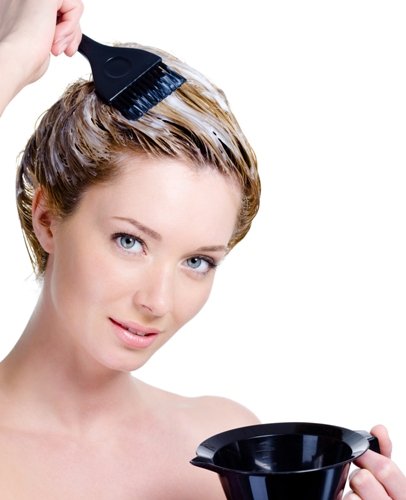 Just as our face needs toning, so does our hair. Beauty salons and professionals offer hair-toning solutions, but they are quite expensive. But if you have already dyed your hair in a first class salon that has left a hole in your pocket, you can opt for a homemade hair tonic. Homemade hair tonics do not contain chemicals and reduce the risks of side effects on the hair and scalp.
You can apply hair tonic when your hair color or highlights start to fade or right after you have bleached it. You can apply a semi-permanent hair color before toning your hair. Toners neutralize the complementary hair colors in your hair and therefore you need to select the right color shade to tone your hair. Therefore, be sure to select the right tonic for your hair. You can try the following recipes mentioned below
How to make your own hair tonic at home:
Here are 4 best and effective home toners for different hair.
1. Homemade toner for copper hair:
Do you know how to make homemade hair tonic at home? You will need a good brand conditioner, blue and purple food coloring, and water.
In A Glass Of Water, Add The Purple Food Coloring.
Then Add A Small Amount Of Blue Food Coloring And Mix Well.
You Will See That The Water Has Turned Dark Blue.
Then Pour A Sufficient Amount Of Hair Conditioner Into A Bowl.
Add Some Dark Blue Water To The Conditioner And Mix Well.
The Mixture Will Turn Light Purple.
Now, Use A Hair Coloring Brush To Apply The Mixture On Your Hair.
Let It Sit For 30-40 Minutes Before Washing It Off Completely With Cold Water.
Your Hair Color Should Be Neutralized.
2. Hair tonic with vinegar rinse:
To Try This Method At Home, First Condition Your Hair Well With A Good Brand Of Conditioner.
Now Add Some Purple Food Coloring In A Glass Of Water And Stir.
Add An Equal Amount Of Blue Food Coloring Followed By A Dash Of Red Food Coloring.
Stir Well. After Rinsing The Conditioner Out Of Your Hair, Pour Vinegar And The Color Mixture Over Your Hair And Massage Well.
Make Sure To Spread The Vinegar And Color Mixture Evenly On Your Hair.
Let It Sit For 10 Minutes And Then Wash It Off.
Don't Worry About The Lingering Vinegar Smell.
Eventually It Will Fade And Your Hair Color Or Highlights Will Be Neutralized.
3. Homemade herbal tonic for yellow hair:
Have you heard how to make homemade yellow hair toner? This tonic helps to fix yellowish colored hair. This recipe does not include food coloring and therefore does not contain chemicals. You will need mallow herbs, apple cider vinegar, and water.
Boil Some Water In A Saucepan And Add A Little Apple Cider Vinegar And Mallow Herbs.
Cover The Saucepan With A Lid And Bring The Mixture To A Simmer.
The Mixture Should Be Thick In Consistency, So You May Need To Set It Aside For 30 To 40 Minutes.
Then Wash Your Hair With A Good Brand Shampoo And Pour The Mixture Over Your Hair.
Massage The Mixture Evenly And Well Into Your Hair.
Let The Solution Sit For 10 Minutes And Then Wash It Off With Cold Water.
4. Homemade toner for brown hair or highlights:
If you have brown hair or have dyed your hair brown, this is the toner for you. This toner is suitable for removing orange and red tones from brown or dark hair.
Add 2-3 Drops Of Green Food Coloring To Your Conditioner Or 2 Drops Of Green Food Coloring And 1 Drop Of Blue Food Coloring If You Have More Orange Tones.
After Shampooing Your Hair Thoroughly, Apply The Mixture To Your Hair And Leave It On For Ten Minutes.
Then Wash It Off With Cold Water.