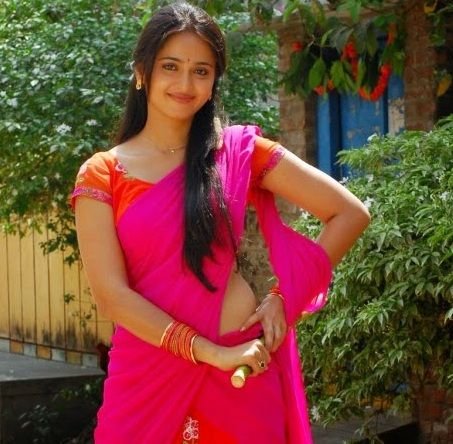 Anushka Shetty has become a brand of perfection in the film industry! This yoga teacher turned actress has delivered quite a few blockbusters like Arundhati, Bahubali, Bhagamathi, etc. Along with her acting prowess, Anushka Shetty is famous for her flawless beauty. While she can effortlessly wear any outfit, Anushka is best known for her love of sarees. She is often seen flaunting her well-defined curves in a variety of sarees such as chiffons, silks, Kanjeevarams, and even simple cotton sarees, both on the reel and in real life. In this article, we'll explore some of the best photos of Anushka Saree to make you fall in love with her, all over again!
Elegant images of Anushka Shetty in saree:
If you are a fervent Anushka Shetty fan, we are pretty sure you will love this article! Explore our latest collection of Anushka Shetty saree photos to find more reasons to love her!
1. The real life devasena:
Anushka's role as Devasena in Bahubali is a milestone in her entire career. She killed the role of royal beauty like a piece of cake. His introductory look, where he fights villains under a white veil, makes us skip a beat. Her pink saree with a blue blouse has become a poster for this role. She looks every inch like a princess in her simple, but aristocratic choice of jewelry and, of course, her attitude.
2. Anushka Shetty White Saree:
Anushka Shetty makes a smart decision by mixing the foolproof red and white combination for a promotional event. She paired a simple embroidered white saree with a modestly made red blouse that offers full coverage. A metal front zipper adds a oomph factor to the outfit. Don't miss out on its comfortable yet elegant draped style. Her red high-heeled sandals raised the overall beauty by a few inches!
3. Anushka Shetty in half saree:
Anushka Shetty looks like a perfect village beauty in this bright red and pink half saree. The actress chose to keep it low-key by opting for a simple hairstyle and accessories. While the blouse is kept in a sober pattern, the lehenga is added with a touch of embroidery. The "Voni" remains simple, as a contrasting element of both pieces. She finished her look with well-groomed hair, crystal bracelets, and a gold chain.
4. The orange beauty:
Anushka is especially known for her collection of silk saris . Anushka is seen here in a beautiful Kanjivaram silk saree for a business event. She opted for a clean makeup look and open hair. Aside from the grandeur of the saree, not many accessories are made here. She was just sporting her signature smile, along with a gorgeous pearl bracelet to complete the look.
5. The Show Stopper style:
Here Anushka is seen throwing her million dollar smile during a close friend's wedding. She was seen in her usual minimalist style of dressing. Benaras' black saree was complemented well by an intricately embroidered Zardosi work blouse. She chose to keep all accessories free except for a finger ring and a pair of earrings. That's why we love her even more!
6. The elegant look of Bhagamathi:
Anushka looks sensational in the movie 'Bhaagamathie'. In addition to branding herself on screen as a possessed woman, Anushka also helped revive the lost glory of handloom sarees. During her role as Chanchala, Anushka was seen wearing handmade cotton sarees with Ikkat-style blouses, which made her look professional and dignified. She achieved every look in the movie and her style was highly appreciated.
7. The perfect peach look:
Here's an absolutely fabulous peach saree in a coral orange hue where the peach of the saree is gorgeous, if not understated and fantastic. The saree itself sports some fine lines of floral art in a smart white that goes well with the frosted orange look of the saree and at the same time makes the look of the saree beautiful and priceless.
8. The coral pink look:
Here's another look this season sported by the gorgeous Anushka Shetty. The saree looks gorgeous in a soft coral orange and warm pink hue with fishnet and chiffon patterns. The twist of the saree is the simple pattern work and the white embellishments that look similar to glittering diamonds in the galaxy fashion.
9. The Black Beauty:
Black is that color that would make you look simply elegant and that is why the safest color to play with when it comes to experimenting with styles is no better than this shade. Here Anushka in this black color looked fantastic with the detailed patterns drawn on it. The edge has a beautiful red that makes the saree pop.
10. The chic look:
Just when you thought Anushka was sexy, she pulled off this extremely stylish look that made her look not only classy but ravishing as well. The saree sports a deep green hue on its body that makes the saree warm and deep-tinted, while along the outer lines are zari embellished edges.
11. The red gauze:
Anushka Shetty recently visited a phone promo meeting where she decked out in a coral fuchsia pink saree with detailed sequin artwork. The sari boundary looks fascinating and so does the perspective. Adorned in zari, the sleek and slim edge against the backdrop of this red chiffon saree makes her look so gorgeous. This is a great look for a visit to your best friend's wedding reception and you can try it too.
12. The busy black:
This saree is a traditional South Indian saree that looks busy with all the loud artwork drawn and engraved on it. The saree mainly sports the minimal of designs with occasional stripes of pale white and gold flowers. This same gold is illustrated in a much more extravagant way in the confines of the saree with the entire saree busy with white work.
13. The Neon Chic:
Here in this picture of the actress, Anushka is wearing a neon-colored pop blue saree. The saree is simple and naive in its own way with a little touch of embellishment on the sides to make the saree look beautiful and elegant.
14. The extensive artwork:
This half saree started out as a simple, soft black velvet on the top half, but as we went down, the bottom half of the saree surprised us when the talented Anushka sported this extensive floral artwork on a nude colored background shade.
15. The wedding look:
If you are concerned about what to wear in a wedding invitation, take the lead from Anushka, who is dressed her best in this authentic Chennai silk saree. The saree in the lower half looks gold with sparkles, while the upper half of the magenta pink looks gorgeous when paired.
Anushka Shetty Saree Style Tips:
If you want to show off her demigod look, why wait? Follow these tips from our expert fashionistas to get started:
Just Follow The Mantra Of 'Simple Is Beautiful'! Anushka Always Believes In Keeping It Minimal And Stylish.
If You Are Wearing A Heavy Saree, Choose A Low-Key Blouse And Vice Versa
Ditch Those Flashy Maggam Work Tops And Opt For Plain Cutouts And Elbow Sleeves Instead.
Opt For Fancy Accessories Like Gold Chains Or Pearls
Keep Your Hair Open Or Style It Neatly With A Clutch
Strictly Free Of Heavy Chokers, Diamonds, Or Other Flashy Embellishments.
Don't Forget Your Beautiful Smile!
Still hungover from Anushka? We bet you are! Anushka is a beautiful person from the inside out and her personality is quite inspiring. She is open to experimenting on screen, but she chose to be herself in real life. His collection of sarees mainly includes natural hand-woven fabrics such as silk or cotton, which is often stained with them. He is also a 'less is more' person and does not like to show off his stature. If you have any of your favorite Anushka Shetty saree photos, please let us know in the comment section and we will be happy to add them to this list.