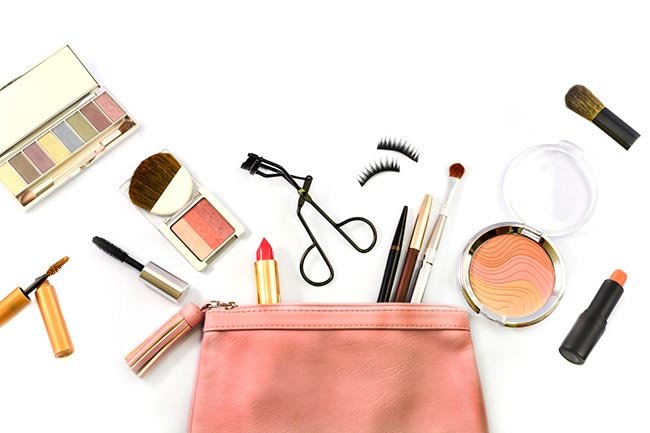 How many of us have had to say "where did I put that?" when in the course of buying a gift or kit item, we come to realize that it wasn't near enough or deep enough? This happens more frequently than we'd like for it to. The worst thing you can do if this happens to you is to give up. Give up because you don't know where to begin.
There are some very simple things that you can do when you're unpacking your kit. Number one is to make sure all of the items you want in there are close at hand. This means don't wait until you get home from work. Take a little time to grab all of the items from the car or your purse and store them somewhere safe. You want to make sure they're out of sight and out of mind when you're running around in circles looking for that perfect lipstick or eye shadow.
It might also be a good idea to open up the kit and make sure everything is in one location. I've done this with several different kits. I've gotten the impression that if you don't see something you want, you'll usually just keep searching until you do. Don't do that! Get started first and put everything back as you find it.
You may also want to consider making a "kit bag" out of a piece of material that you have on hand such as tissue paper or a clean towel. Use the kit bag to store the items you don't want in your regular bag, but that you need on hand. This will make it much easier to go grab something and go when you need it. It will also keep your kit organized and away from crumpled condition after you've used it several times.
Make sure to pack items that are common too. For example, powder, lotions, creams, etc. Also, make sure to pack items that can be used interchangeably too. For example, I keep nail polish and lip gloss in the same place so that I can touch up my lipstick between uses.
If you plan to be gone from home for an extended period of time, be sure to pack a quick first aid kit and some other items. By having these supplies close at hand, you won't have to run back and forth to the beauty supply store. When traveling, you can take your kit with you to any location you may go to. Just make sure you have enough of each item before you leave and make sure to have a fresh kit when you get home.
Something else that I like to keep in my kit is an assortment of nail files, nail polish remover and clipper. I don't use all of these on a daily basis but when I need them, I'm ready for them. You can also keep lip balm, eye pencils, mascara, etc. In your beauty kit. And if you travel a lot make sure you have an extra set of travel makeup that you can bring along.
When you travel, you want to keep your kit together as best you can so you aren't running back and forth to the bathroom or getting lost. Also, be sure to always bring your contact information with you. That way, if you have any questions about anything, you can just contact the company for help.
You should also make it easy on yourself and keep the kit organized by using a color-coding system. You can use colors or letters to make it easier to find things when you need them. Also, try and purchase the items you are going to use on a regular basis during your travels. So, if you have nail polish that you use once a week but use twice a month when traveling then you should purchase the same color or letter.
Something you may think is silly is keeping an itemized list of items in your kit. However, this method actually works and can help you easily find something you need. Make sure to keep your beauty kit organized by month, day, and even the day of the week. Then you will know where to go quickly if you need to buy something. You can also use your calendar to keep track of what days are good for purchasing new products.
If you want to learn more about these tips for organizing your beauty kit then check out my website for more information. You will find tips and advice on everything nail polish related including nail art, makeup, and skincare products. You can get a free kit when you join my email newsletter. This is the first step in starting your own home business and it doesn't get any simpler than this.