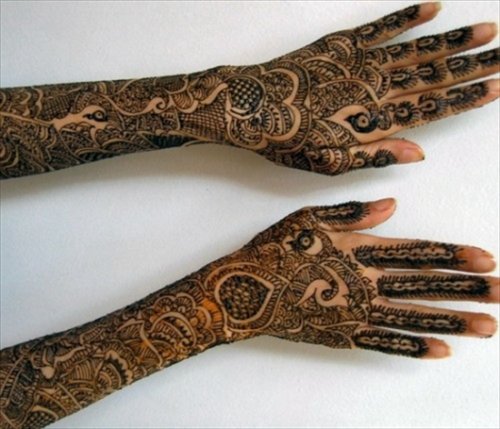 15+ Cute Gujarati Mehndi Designs With Images
The typical feature of Gujarati mehndi designs are rich details and extravagant looks. The intricate lines and shapes make the design extremely elaborate and complicated. Gujarati mehandi designs are more time consuming and difficult to make. However, brides almost always opt for these as it makes their appearance more eye-catching. The extreme patience that goes into making these detailed designs is always worth the end result that makes the brides hands and legs look gorgeous, to say the least. Gujarati mehndi designs feature wonderful peacocks, leaves, flowers, and other recognizable patterns. Many Mehandi bridal designs even include Gujarati-style images of the bride and groom! In general, these Gujarati mehendi designs,
Featured Gujarati Mehndi Designs:
1. Peacock Gujarati Mehndi:
The elaborate peacocks full of intricate details and patterns look exquisite when drawn in the palm of your hand. Gujarati mehndi designs often feature peacocks well complemented with flowers, leaves, and other shapes. However, as always, it is the fine details of the lines and curves that fill the main contours that make the whole design elaborate and extravagant.
2. Smart Gujarati Mehendi Design:
While normal mehendi designs almost always include floral patterns, Gujarati style designs often refrain from doing the same. A design with various geometric shapes and lines running through your hand giving the appearance of bracelets and other ornaments looks elegant. It has a less flashy and more elegant appearance. Large circles are filled with thinner lines and dots. The overall appearance is abstract and fresh.
3. Bridal Gujarati Mehandi:
Bridal Gujarati mehndi designs are undoubtedly elaborate and overly ornamental. They are large and do not leave much skin exposed. The design includes floral prints, decorated elephants that are part of common wedding arrangements in many cultures, images of the bride and groom, and other wedding-related paraphernalia. The lines are sharp and distinct, giving the design a well-defined outline.
4. Gujarati Leg Mehndi Designs:
A Gujarati mehndi design running down your leg gives the appearance of a beautiful ornamental piece that adorns your limb. Intricate details make the design beautiful and elaborate. The patterns are well organized so the main contours look like gem studded anklets. In general, it is not a bad idea to waste the time required to make this design.
5. Simple Gujarati Mehndi:
A simple or typical Gujarati design features simple patterns in the shape of a bracelet with a bow or a line of flowers running down your hand, starting with one finger. As always, the design is a representation of Gujarati culture and looks excellent.
6. Gujarati Mehandi Art Design:
Gujarati mehndi designs are usually very innovative and artistic. One of those designs involves extensive use of spirals. A large number of spirals, which vary in size, look very artistic when grouped together. With a few well-placed dots and lines, the design starts to look even more perfect.
7. Make Gujarati Mehndi for Full Hands:
The elaborate Gujarati mehendi designs by hand are very much like that of brides. They occupy all the available space with all kinds of lines and shapes. The final effect is impressive. Additional details and intricate patterns make the design look like quirky ornaments fit for royalty.
8. Foot Gujarati Mehndi Design:
Gujarati mehandi designs are also very suitable for your foot. The cleverly combined tangle of curves makes for excellent tattoos even if only henna. Depending on your choice, you can make your mehandi design simple or elaborate in Gujarati style.
9. A Simple Gujarati Style Mehendi Design:
A simple Gujarati Mehandi design involves zigzag lines and shapes well blended to form an abstract pattern. As simple as it is, it doesn't take long to do. The overall look is less traditional and more tribal or funky.
10. Gujarati Design Flowers:
This is a very complex design. It is a design of flowers intricately woven together in an elegant way. Although it is suitable for all occasions, this particular Gujarati style mehndi design is mainly chosen during wedding occasions and any other important events. There is no shortage of talent in Gujarat when it comes to mehndi design. Both men and women practice this art effectively and many use this art as their main source of income.
11. Peacock Feather Mehndi:
This full-hand peacock feather design is an impressive and intricate piece of art and a skilled hand is required to carry out such a design. Suitable for all occasions, it is normal to see Gujarati women adorning such intricate designs on their hands and feet on a daily basis.
12. Full Hand Gujarati Design for Eid:
Impressively challenging yet effectively beautiful, this hand-woven flower mehendi design is suitable for bridal ceremonies and weddings. It is not uncommon to see that even the smallest mehndi design shops in Gujarat can complete such designs with an air of finesse.
13. Gujarati Dulhan Mehndi for hands:
Traditional, simple yet elegant, this particular mehndi design is best suited for the bride on the wedding day. The design wraps around the entire arm and ends at the shoulder. Gujarati mehndi design is one of the oldest arts in India dating back to the days of the nawabs. That art must be revered.
14. Great Gujarati Mehndi:
This is another example of Gujarati's superiority when it comes to mehndi designs. With the use of henna, which is a completely natural product, such a design is a product. Can you really fight with Gujarat when these designs are made every day?
15. Modern Floral Mehndi Design in Gujarati Style:
This pattern is simple, but the popular mehendi design is adorned by young women in and around Gujarat. The flower is considered the basis of most mehndi designs, which is why most of the floral designs are present. Creepers and finger leaves complete the pattern.
16. Celebration of the dark color Gujarati Mehndi:
Black or henna mehndi is an alternative to the normal material used in the design. It is best suited for fair complexions and is impressively adorned by brides. This intricate piece of art deserves its place in Gujarat's finest mehndi designs. With the majority of people being the main source of income, people practice day and night to perfection, adding a profession that deserves their royalty.
17. Gujarati design with colorful glitter:
Unlike the rest of the designs shown above, this particular piece of art uses a color that is not readily available and extremely difficult to copy. Only the most skilled hand can perform such a mehendi design.
18. Gujarati Mehndi religious design:
With Lord Ganesha on the left and his bearer the mighty elephant on the right, this is another Gujarati mehndi pattern worth mentioning. The religious symbol in the middle of the palm conveys the spiritual essence along with the other ornaments. Gujarati mehndi designs should be appreciated for the time it takes on a design. Sometimes artists sit for 8 hours straight just to complete a design.