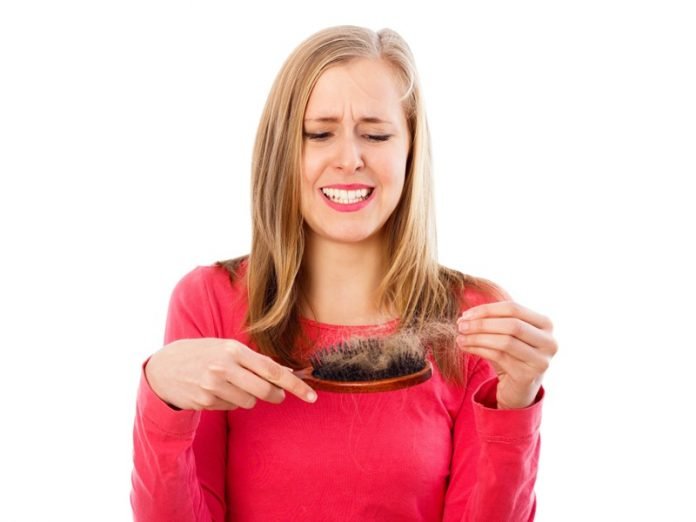 Obsessed with our hair, right? We want hair that speaks, that makes others envy and that shines and bounces, right? However, let's face reality, thanks to the various causes that surround us, we do not have such beautiful hair, worse still it breaks and falls every time we touch it. We tend to ignore the few strands, because they say 100 strands drop a day. However, when it is too much to handle, we panic, we get stressed and anxiety takes over, making things worse, because no one wants to be bald !!
What not to do?
Before we tell you what to do, let's see what we must not do to avoid these problems. For example;
Stop Smoking.

Stop Drinking Alcohol.

Stop Being Lazy.

Stop Eating Too Much Fatty And Oily Junk Food.

Stop Using Harsh Chemical Treatments.

Stop Coloring Your Hair, Even If It Doesn't Have Ammonia.

Stop Using Soap On Your Hair.

Stop Tying Your Hair Too Tight.

Stop Wearing Accessories That Pinch And Break Your Hair At The Roots.

Stop Being Negative.
What you can do:
Now that you know a little about what NOT to do, let's learn together what we must do to keep the supreme glory healthy and in place. Here are some tips from Grandma's Secret Diary, no wonder she had the best hair to date, and her skin was amazing and flawless too. Hair the remedies of ancient wisdom; the kitchen has many ingredients that will keep your hair in good shape. Take a look at the recipes below, and none of them would have an iota of chemicals.
We are always against using anything unnatural and chemically induced, so read on and be knowledgeable about how the goodness of nature and all things natural can help you get back your long happy tresses.
Homemade tips to control hair loss:
Here is a list of 15 natural tips to reduce hair loss that you can choose from.
1. Massage the hair and scalp with essential oils, either individually or together. For example, warm coconut oil or jojoba oil, almond or canola oil would help, olive and pumpkin oil would also be good, as would mustard and lavender. Mixing them well or using them separately on different days, three times a week for half an hour and washing them with herbal shampoos, works wonders.
2. Cinnamon tastes good and smells heavenly, so if you use a pinch of the spice with a tablespoon of honey and a little lemon juice, the hair mask will promote hair growth and also maintain the hair. clean scalp. Hair loss is prevented in a big way, and in the past, many men and women used it to slow down hair loss and baldness as well.
3. The paste of an onion with a tablespoon of honey would do wonders in controlling hair loss. Massage the hair follicles and scalp to the tips and let it sit for twenty minutes. Do this twice a week and then wash it off with a mild herbal shampoo. Bounce and shine and a clean scalp are guaranteed, along with the loss of smaller than normal hair strands.
4. Tea tree oil has its own magical role to play in promoting hair growth, holistic experts say. Disinfects the scalp and nourishes hair in all its splendor. Reclaim the glory of the crown by applying the oil and wearing a hot turban to soak in the goodness. Twenty minutes twice a week and your hair stops falling out, we promise.
5. Aloe vera paste when used directly on the scalp nourishes the follicles and keeps the scalp clean. This is also true when the paste is mixed with a tablespoon of castor oil, which helps thicken hair growth and also protects each strand on the head. Hot turban therapy with oil and paste massage would work wonders. Wash the remains with cold water and let it dry naturally.
6. Horsetail and palm hearts are herbs that help promote and stimulate hair growth. They have a lot of silica, which makes the hair shine and grow too.
7. Use a natural hair conditioner and not one made chemically. For example, curd and milk are rich in acids necessary to help maintain the pH levels of the scalp and also to promote hair growth. They make hair soft , shiny, silky and strong. Apply the mixture and let the mixture stay on your hair, in the mixture you can choose to use pieces of amla and lime. The two would help fight scalp infections, hair problems, hair loss, and long-term hair loss.
8. Wheatgrass juice and wheat germ oil help with thinning hair. Both can be used in 1: 1 amounts with any essential oil for thirty minutes and wrapped in a turban. Do this three times a week and watch your hair shine again
9. Soak fenugreek seeds overnight and form a paste the next morning. Rub this paste on your hair and keep it for an hour. Do this twice a week and, if necessary, oil your hair after washing the paste off with cold water. This restores shine and prevents hair loss.
10. Coriander juice or herb paste on your hair is powerful in stopping hair loss. Apply it once a week and follow with a hot oil treatment, using any of the essential oils you find at home. Duration of treatment with hot oil and juice, no more than twenty minutes each. Follow up with a shampoo session and voila, hair care done
11. Mix a cup of curd with lime juice and apply it well to the hair. The follicles need the acids to maintain the pH level of the scalp, and infections, build-up, and other problems like hair loss and hair loss would also be treated. Do this twice a week and for 30 minutes each time, it would work wonders
12. Go to the drugstore for emu oil, which helps moisturize hair and scalp and promotes hair growth. Apply the oil with a sesame base, 1: 2 and use a hot turban therapy later. This would remove dirt and grime and also handle hair.
13. Using rosemary juice or oil to wash or moisten hair helps prevent brittleness and breakage in the long term. 1: 1 rosemary and almond oil mixed and used for twenty minutes, three times a week would be good.
14. Licorice and sage would work wonders to promote hair growth. An extract of the two
when mixed, would be best used for ten minutes, three times a week, experts say.
15. Sage tea is amazing as a hair friend, hair growth is possible and hair roots are well nourished.